Call Us For Advice: 0203 053 4787
Portable Stage Systems
Specialists in portable stage systems, mobile stage platforms and modular stages. All our stage platforms are TUV and DIN safety tested in accordance with world standards for performance equipment.
Manufactured from high quality aluminium frames with sturdy, anti-slip plywood tops, these stage decks are ideal for a wide variety of tasks.
Professional portable stage systems and tiered stage seating packages offer the perfect solution for churches, councils, fitness/dance studios and the live music circuit
View our full selection of staging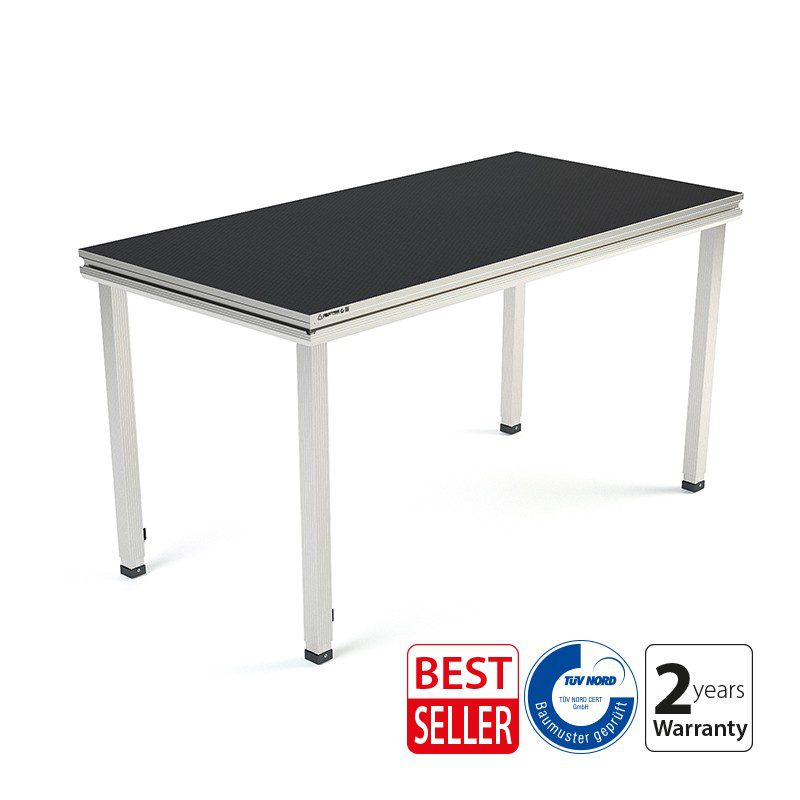 Modular Stage
Stage Concepts are happy to supply anything from a one off single stage deck to a large arena sized modular stage.
A complete range of of accessories are available, with all the required fixtures, fittings and extras required to build even the largest stage system. For example, our safety handrails and stage step units are popular additions to our standard stage packages.
Our product specialists will guide you through the ordering process to ensure you purchase the exact portable stage system you require. Therefore ensuring it will be suitable for the intended use.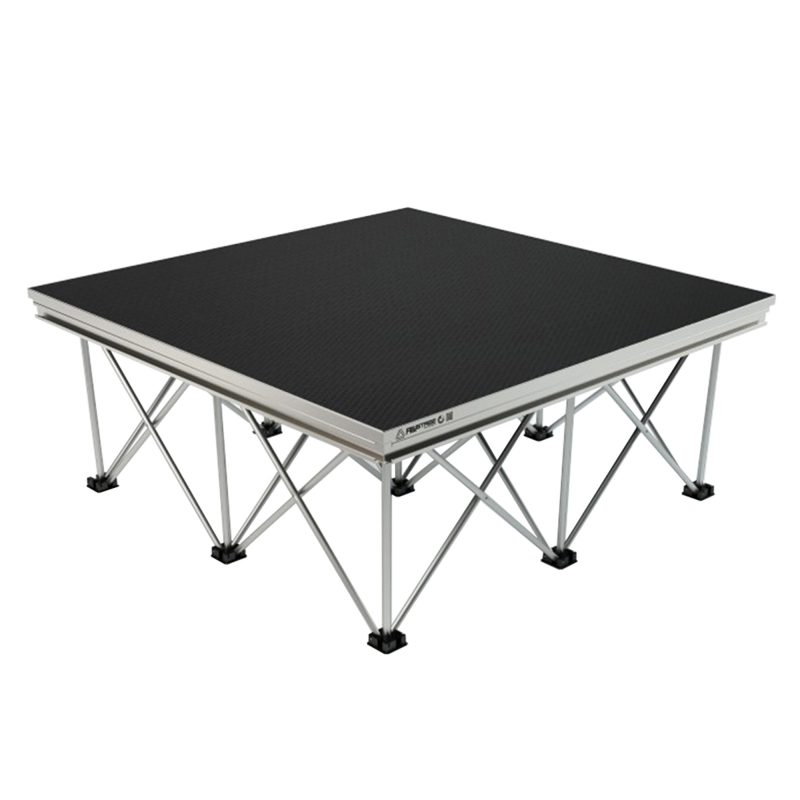 Stage Concepts are not just another shop. Above all, the aim of Stage Concepts is to provide an old fashion service based on product knowledge and a proper customer experience. This is something we feel is often lacking in this day and age of emails on online purchasing.
Here at Stage Concepts, we select only durable and high-quality modular stage platforms. As a result, we guarantee value for money and assure you that we will provide the right solution for your project.
Portable Stage Systems Specification
All of our stage decks are fully CE marked and TUV safety rated to guarantee their performance. As a result they have the capability to withstand the rigours of heavy daily use.
The stage decks have immense structural rigidity and low flex. They feature a huge 750kg/m² loading capacity which is purposely over engineered not to overstress when under normal usage.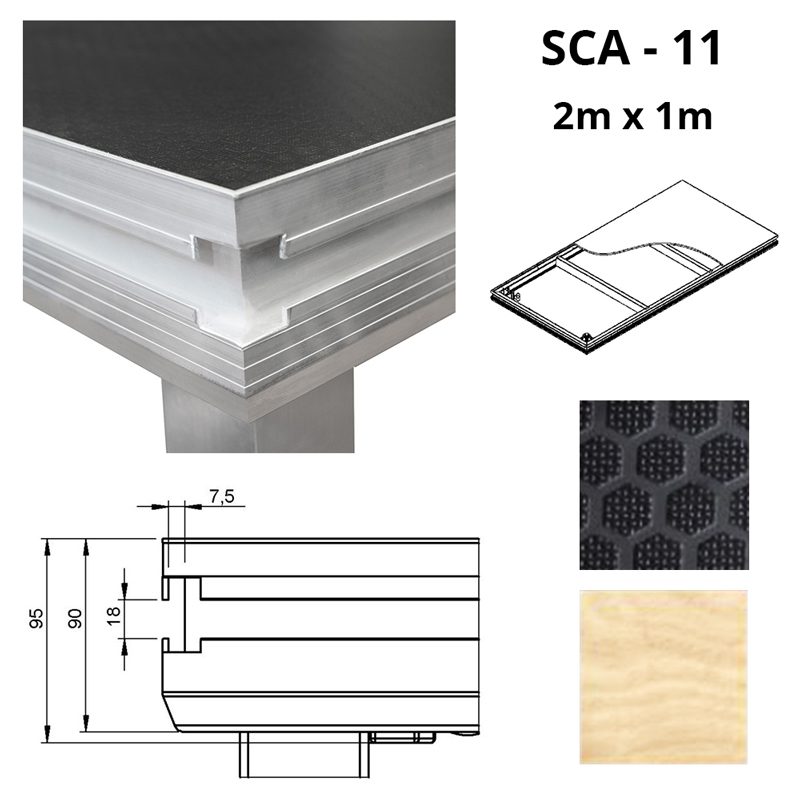 The use of extruded aluminium provides light weight and durability. It is far easier to manufacture than the traditional ladder type frames which require lots of welding and additional pieces. The modern extrusion process allows jointless lengths with exterior slot mounting rails for clamps and accessories. Therefore providing a sleek and modern product.
Durability is provided by industrial textured finishes. In addition the textured finish creates a non- slip surface. Above all, the textured Modular Stage floor will provide endurance and safe use even under the toughest of conditions.
The boards themselves are generally 12mm for light duty stage and 18mm on heavier duty platforms. They are made from moisture resistant birch ply for maximum strength. Their multi-piece laminate construction provides resilience to bowing and twisting that normally occurs in large sheets of wood.
View our full selection of staging
Portable Stage Deck Options
We offer a wide selection of extras to compliment our stage deck platforms. This includes safety handrails, chair leg backstops, set length and adjustable legs, both round and square tubular design.
Leveling feet and rubber inserts for floor protection, or a range of locking castors for ease of mobility.
Storage and transport trolleys for multi deck use are perfect to easily store the decks away when not required. This makes moving several decks at once a simple task.
Custom Stage System Extras
As previously mentioned, frames and legs can be custom ordered in anodised or powder coat finishes. Options including factory ordered real wood veneers can be applied to the standard stocked stage deck surfaces. Also coloured, patterned vinyl, acrylic and steel grid finishes are available.
Fabric skirtings and valances are available in a selection of colours and sizes. With options for both single decks and large stages. Velcro strips can be used for quick and easy attachment of the stage skirts. Likewise you can use mechanical clamps with the slot rail system.
Mechanical fixtures and fittings for deck to deck clamping to lock frames together for rigidity are available. Also clamps for attaching railings, trussing uprights, and dual or quad section leg clamps for stability. These fixtures help with load spreading and reduce movement.
Stage Systems as Workstations and Furniture
The robust construction and load bearing of a stage deck also lends itself to other not so obvious uses. Even the standard duty 2m x 1m platform has a rating of 750kg/m. Subsequently this is more than enough for an engine or gearbox workstation in a garage. Likewise a sewing station or for a rock solid base for a computer setup. They can be especially suitable for designers using graphics tablets who need a larger stable workspace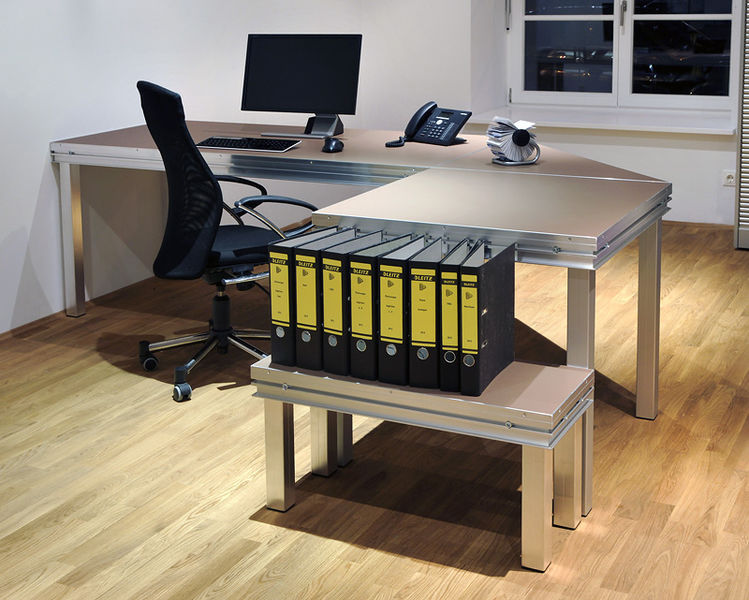 Ply tops can be custom laminated with pretty much any design or material you may want. Therefore opening up huge scope for interior design and architectural usage. The aluminium frames and legs can be anodised or powder coated in a huge range of finishes and colours.
This allows these ultra durable systems to be used as professional home or office furniture.
The quick leg removal allows for endless uses and easily stored when not required.
To view our selection of staging products please click here, or get in touch for a personalised quotation click here
Call Us For Advice: 0203 053 4787
Email Us

Frequently Asked…
What is a portable stage system?
A portable stage system is a versatile stage that can be quickly and easily built and disassembled. It is perfect for mobile use, can be easily transported, and stores flat for convenience. Our portable stage systems are made with a high quality aluminium frame and sturdy anti-slip plywood tops, making them perfect for a range of functions. They are ideal for live music, schools, churches, business conferences and fitness studios.
What are portable stage systems used for?
Portable stage systems are used widely and are ideal for a variety of events. They can be assembled quickly and can make a range of shape and size stages to suit any occasion. As a result, they are perfect for concerts, live music, performances, drama productions, conferences and fashion catwalks. They can easily turn any location into a venue.
How do I assemble a portable stage system?
A portable stage system is made up of a number of stage decks, which are quick and simple to assemble. Each stage deck connects to a riser of the desired height, and locking clamps are then used to fasten the stage decks together to make the desired shape and size. Extras such as steps, stair rails, and stage railings can then be easily fastened.
What types of portable stage system are there?
We offer a selection of pre-packaged high-quality portable stage systems in various sizes and shapes. These packages contain everything needed for easy assembly, and some include extras such as steps and railings. You can also purchase stage platforms individually to create your own custom stage, and we offer stage legs in various heights. Additionally we can provide custom platform finishes, including; vinyl, acrylic and steel grid. Please speak to a member of our team about our custom options.
What size portable stage system do I need?
The size portable stage system that you need will depend on your desired usage and the size of the setting. We can provide anything from a one off single stage deck to a large arena sized modular stage. Our modular stage design means that you will be able to easily adjust the size and shape of your stage to suit different events. The standard sizes of each individual deck are 1×1, and 2x1m, but we also offer 1m x 0.5m and 2m x 0.5m.
What accessories do I need with a portable stage system?
The accessories you will need with your portable stage system will depend on your usage purposes. Popular accessories include; safety handrails, step units, stage skirts, levelling feet and rubber inserts for floor protection. We also provide stage platform trolleys to make transport easier. Please get in touch with our team at Stage Concepts to discuss what extras would suit your requirements.
How much does a portable stage system cost?
The cost of a portable stage system will vary depending on the size and height of the stage required. It will also increase if extras are required, such as railings and steps. The platform finish selected additionally affects the price, with custom finishes such as metal grids costing more than the standard anti-slip finish. For more information on the cost of a system that meets your specific needs, please get in touch with our Stage Concepts team.
Is a portable stage system weather-resistant?
Yes, our portable stage systems are weather-resistant, making them suitable for outdoor and indoor use. Our portable stage systems are made up of stage decks with a durable aluminium structure that is suitable for temporary outdoor use. The stage decks also have a water-proof anti-slip finish, preventing slippery conditions in adverse weather. However, portable stage systems should not be left outdoors permanently.
What weight can a portable stage system take?
Our portable stage systems feature a strong aluminium framework, ensuring they can take an impressive weight load. The exact weight a portable stage system can support varies depending on the type of stage decks used. Our lightweight stage decks have a load bearing capability of 500kg/m2. While our heavy duty portable stage systems feature a 750kg/m² loading capacity.
Call Us For Advice: 0203 053 4787
Email Us